When adding decorations to the edges of your seams or patterns, sometimes using double-folded bias tape is a good way to make it pop. The most common way beginners attach bias tape is via one solid top stitch (or sometimes even two- one for each side.) Although it's effective, it certainly isn't the cleanest option. If you'd like a semi-clean bias tape stitch without needing to invisible hands-stitch the opposing seam or using heat-n-bond, the Hong Kong Finish is for you! It implements a clean seam on the shell while using a sneaky method to bind that backside, and is faster than hand stitching a hidden stitch.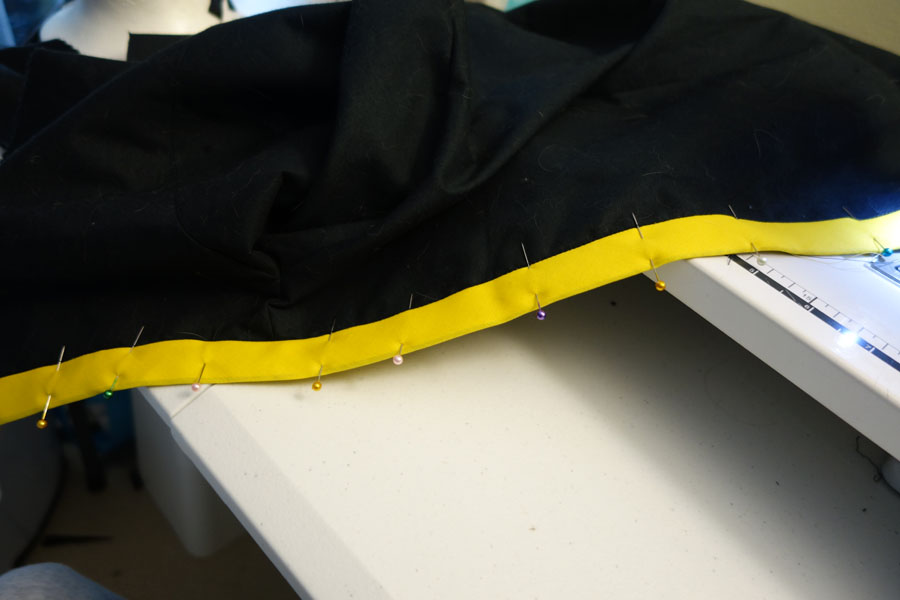 Materials You'll Need
Double Folded Bias Tape (Or single fold that you can iron in half)
Your project all sewn together and ready for bias tape
Types of Threads

Base fabric color
Optional: olor that shows well on base fabric
Pins (some people sew without them, and I don't know how)
Sewing Machine Zipper Foot
---
Figure out the length you'll need for your bias tape
Place your bias tape at the edge of the fabric where you want it. Follow the length and figure out how much you need. Leave at least 1/2" on either edge for excess. If you have to sew a corner, add a good 1" more.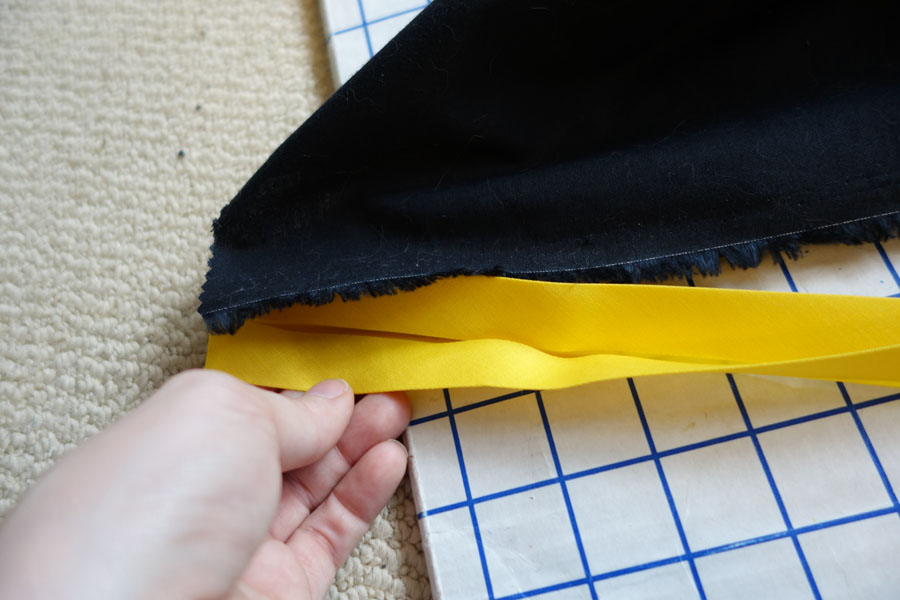 ---
Fold your bias-tape and pin it down to right side
Fold your bias tape over the edge to figure out how close you want to get it. With pre-cut bias tape you could place the edges equal, but it's never a straight line. Figure out your optimum point, open up the tape, and pin RIGHT sides together on the RIGHT side of your fabric edge.
Remember: The top side of the bias-tape must be SMALLER in width than the inside! And you'll see why in the future...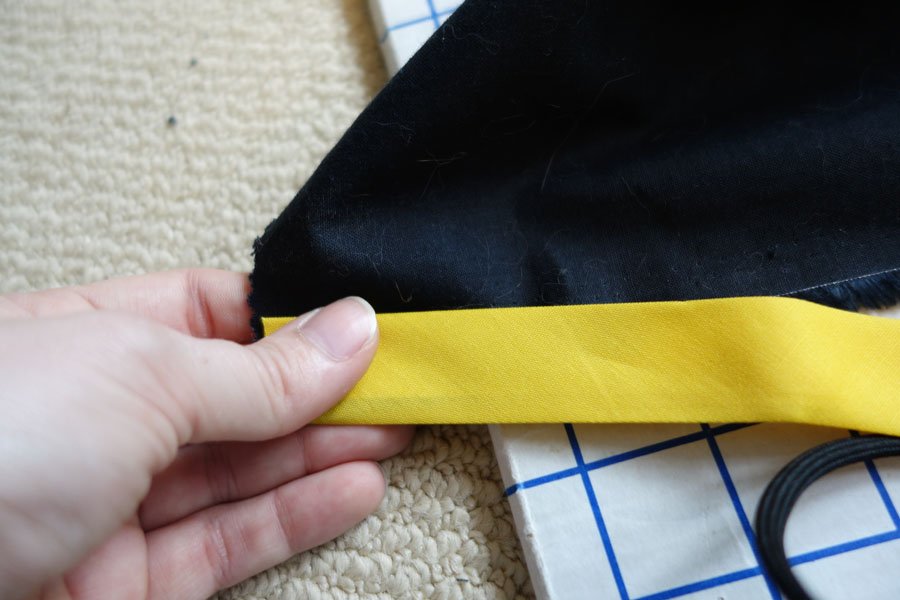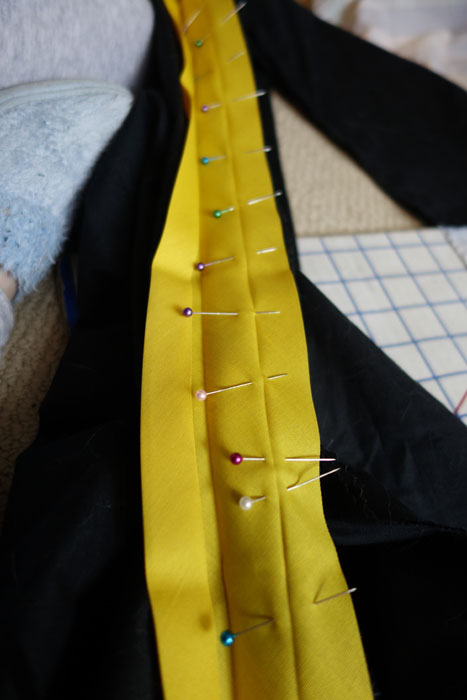 ---
Sew your bias tape down
For your top thread, choose the color that matches your bias tape. For your bobbin, choose a color that is bold on your pattern fabric (if your bias tape color does that, use it!) Sew a straight stitch following the crease of the fabric to the end of your bias tape. If you need to make a mitered corner, this tutorial can be a big help towards that.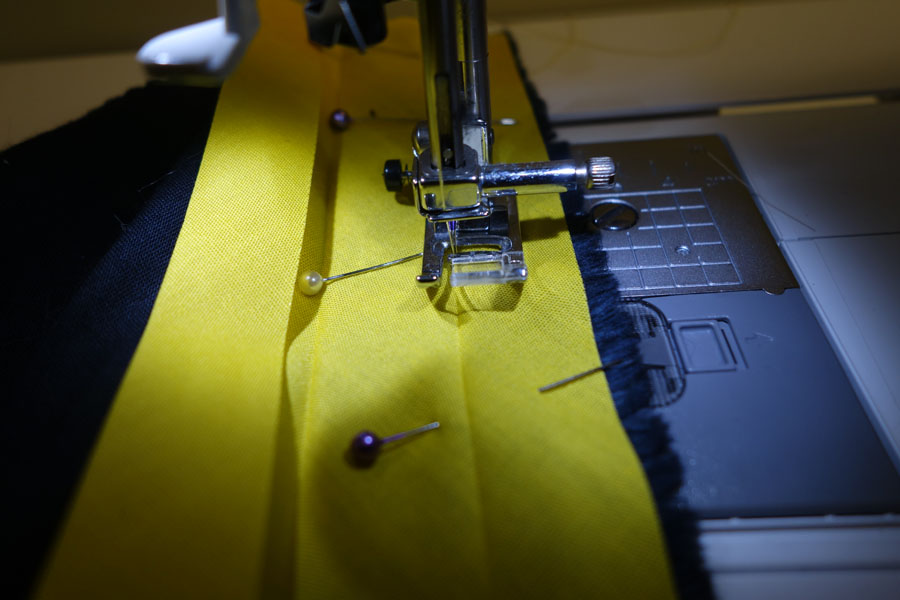 ---
Fold the Bias-tape and pin it down
Flip your fabric over. See that lovely thread for where you stitched your right side down? That is your guiding line! When you fold over your bias tape to pin down the opposing side, your mission is to ensure that passes OVER your thread (aka the bias tape will hide it.) It doesn't need to be miles past it, but enough to at least cover the thread. If you want to test if it's going to be far enough, pin parallel through the fabric and flip it over to ensure that your pin does not touch the opposing side of the bias tape.
Note: Sewing over larger needles with a zipper foot isn't 100% effective. I learned this the hard way... Though my fabric is shown in these pictures with needles, it might be best to take a nice bold color and base stitch it down by hand with some long stitches.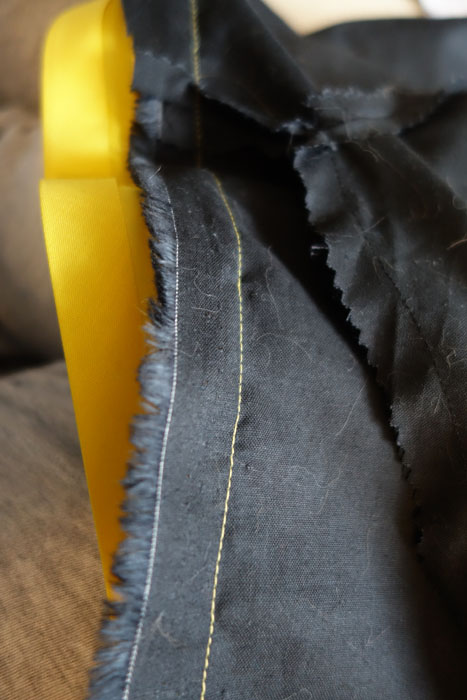 ---
Swap your threads, your foot, and sew
Anyway! Flop your colors around. This time, the top thread should be the SAME color as your base fabric, and the bobbin should be the bias tape color. Also swap your foot out and use a zipper foot (if you do not own a zipper foot, you can do this with a basic foot but be very careful... Also get a zipper foot! They are super cheap on Amazon :3)
You're going to want to sew from the RIGHT side of the fabric here. Place your needle/foot judge on the edge of the bias tape on the top side and sew along that. By doing this you are using a matching color of your fabric to be semi-hidden away by the bias tape, while the bottom side is being stitched down by the bobbin thread. It won't be the straightest or cleanest stitch, but it works for what it needs to do.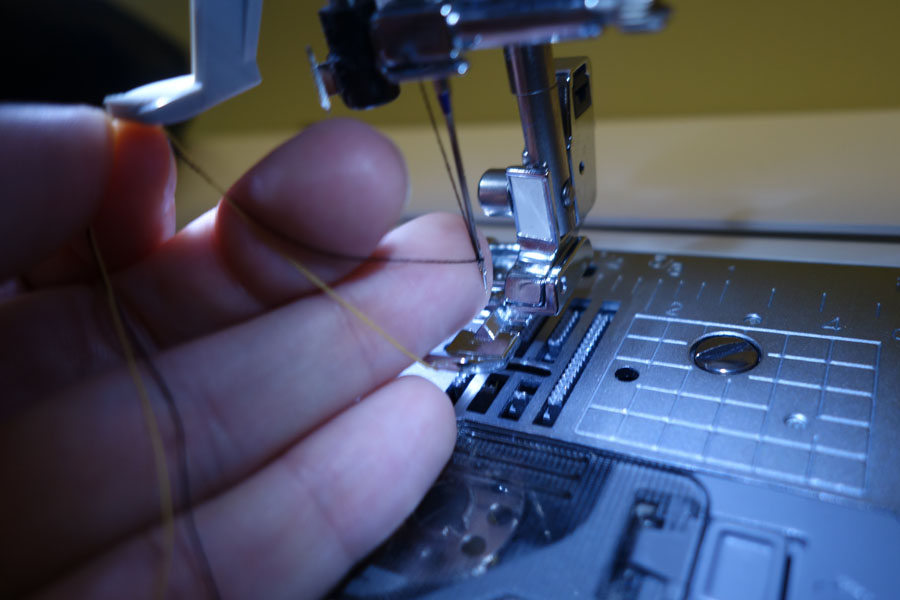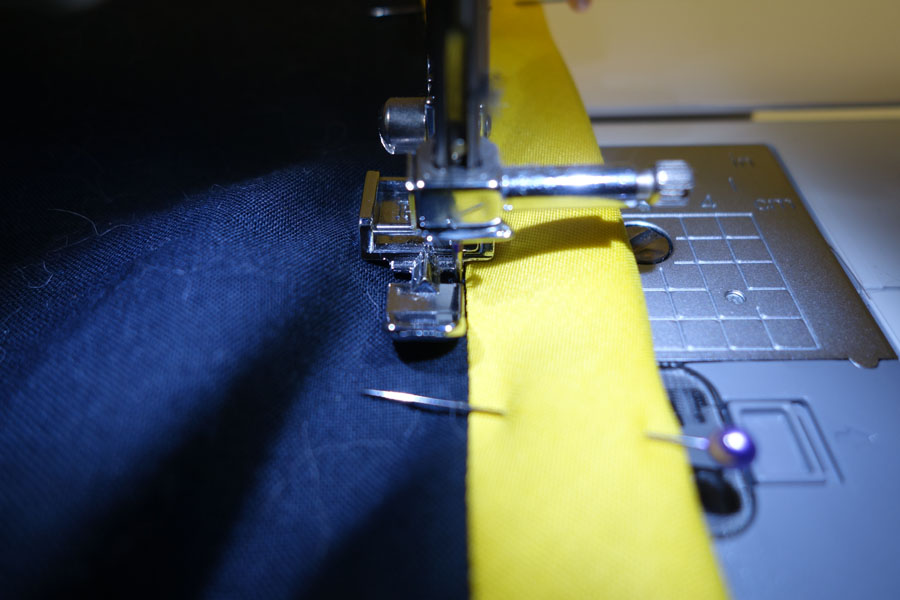 ---
And you're done!
Pull out your pins and check your stitches. Wow! Can't see that top stitch real well can you? Now flip it over, you have the edge of the opposing side bound! (Oh, did you miss a little bit here and there? That can happen. You can re-sew it if you desire, but I've found the holes are small enough that they are ignoring worthy.)
There you go, clean bias tape on the edge of your fabric without the hassle of hand stitching!
If you have any questions about this tutorial, be sure to bug me at or contact me on my Facebook or Tumblr accounts.
Did you like and use this tutorial? If so, please consider putting a little change into the Ko-fi tip jar!