If you've ever worked with velvet, you've realized that velvet is a giant pain because of the pile-or fuzz. Because of the pile and the somewhat fragile nature of velvet, you cannot iron it. This means you can't use iron on binding to hold down an appliqué. And if you try to satin stitch, the bits of pile will come up through the thread and make it look very unclean.
This was an issue I tackled with my Zelda Cape. She had this amazing design on the back and I needed to get it settled. So with a little experimentation and some different tools, I was able to come up with a nice method of doing clean and easy appliqué on velvet!
To learn more about applique in general, see my Satin Stitched Applique tutorial.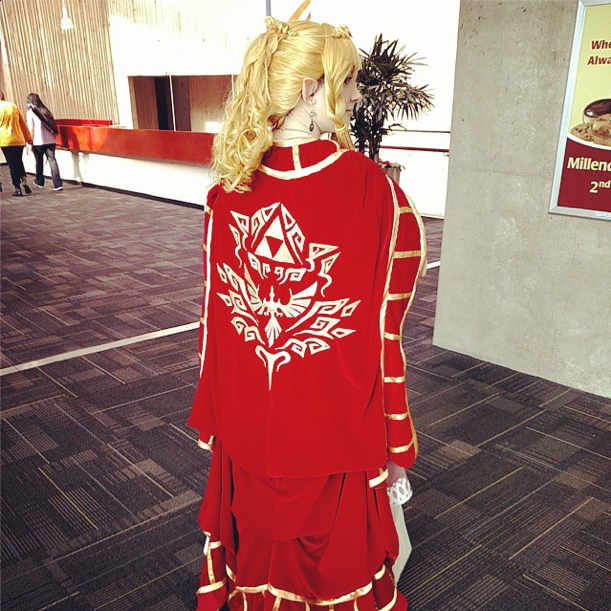 Materials You'll Need
Paper pattern for appliqué (or vector!)
Spray on adhesive
Velvet choice (Mine is Joann's Premier Velvet)
Appliqué Fabric choice (Mine is Crepe Back Satin)
A rayon thread choice
Medium weight fusible interfacing
Size 70/10 Microtex/Sharp Needle OR Denim/Jean Needle (this is the best size for working with velvet, period)

Make sure the needle is fresh as well for the satin stitching or you'll have problems!

Stabilizers:

Light/Medium weight tear-away stabilizer
OR Ironed out coffee filters!
Light/Medium weight water-soluble stabilizer

Length of cardboard OR cardboard cutting board
Tacky/Fabric Glue
Pins:

Long pins (like pearlized pins)
Small pins (like bridal/lace pins)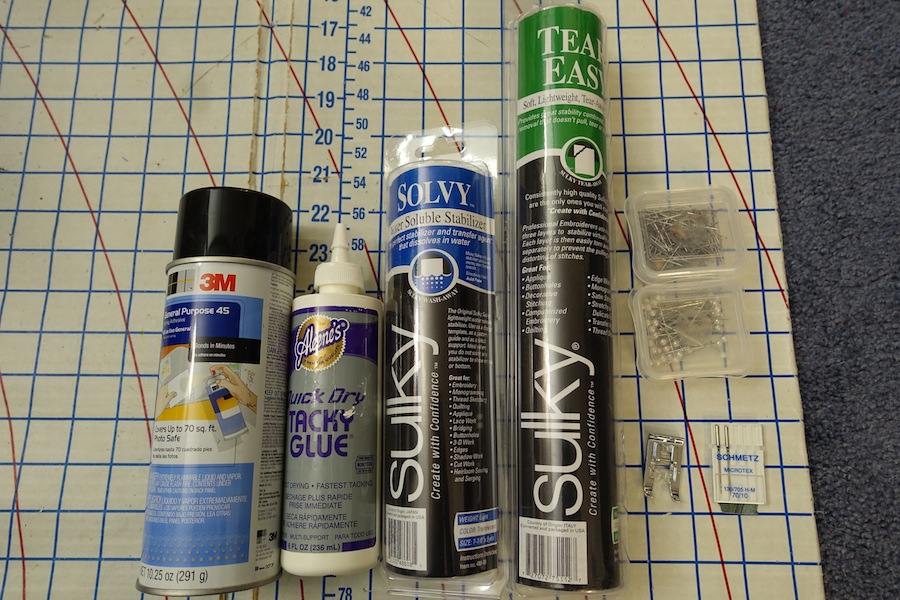 ---
Make a Paper Pattern
You'll want to have either 1-2 patterns of what you intend to put on your project to play with sizes. The method to use is your own, but be sure it is on paper so you can see a stiff form of what and where you want to put it. The first pattern will be used to actually cut out the fabric pieces, but the second one will be used as a guide to help you remember how you want the item set up on your fabric. Remember that your pattern pieces that you'll actually use are mirror imaged to your original design!
OPTIONAL: Make a vector in Photoshop! I prefer in many cases to make my patterns on photoshop and then print them out and put them together. This makes it really easy if I already have the image I want, but I just have to size out. With your ruler measure out your area on your dress-form/yourself/a friend to figure out how wide or tall max you want it. Make a document in that size with a resolution of 300 pixels/inch. If you already have an image you want to use already, you can set that into your desired area and scale it larger. If it pixelates that is alright, as you can follow those lines as you want.
With that done, you'll want to set printing guidelines to make sure your computer doesn't scale the image. Make another document that is 8" x 10.5" with a resolution of 300 pixels/inch, and fill that in with a random color. Copy that entire box and then paste it into a new layer over your vector and use the snap guide to line it up with the edges and drag guide lines to that exact size. Use those guides to crop a box one at a time and print that without scaling. Take the print outs, align the edges, and tape them together to make a full image you can look against your project.
When patterning, you can more easily set up your pieces by moving them about on your canvas into the printable areas, ensuring you have solid pieces to work with instead of anything that's been taped. Be sure as well to flip your canvas horizontally to make them into a mirror image. Then when you print that out, all you have to do is cut out chunk areas of the pieces for later!
Warning! - Make sure any pattern pieces you use are MIRROR IMAGED!!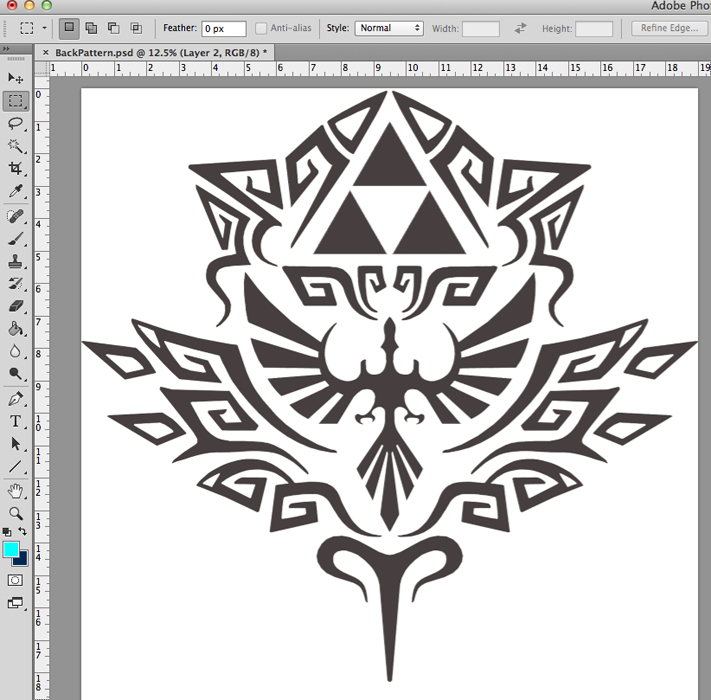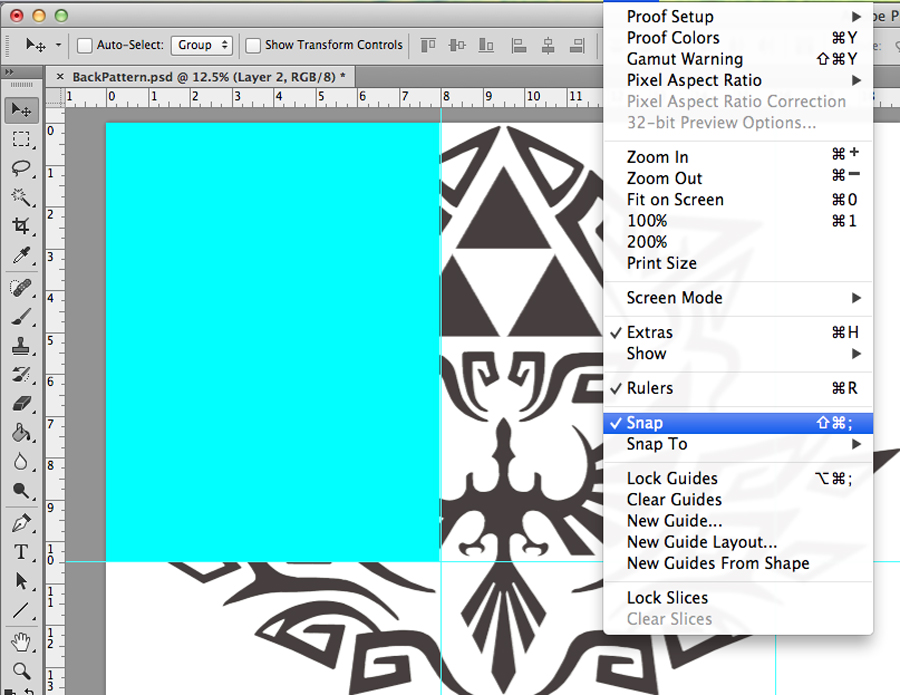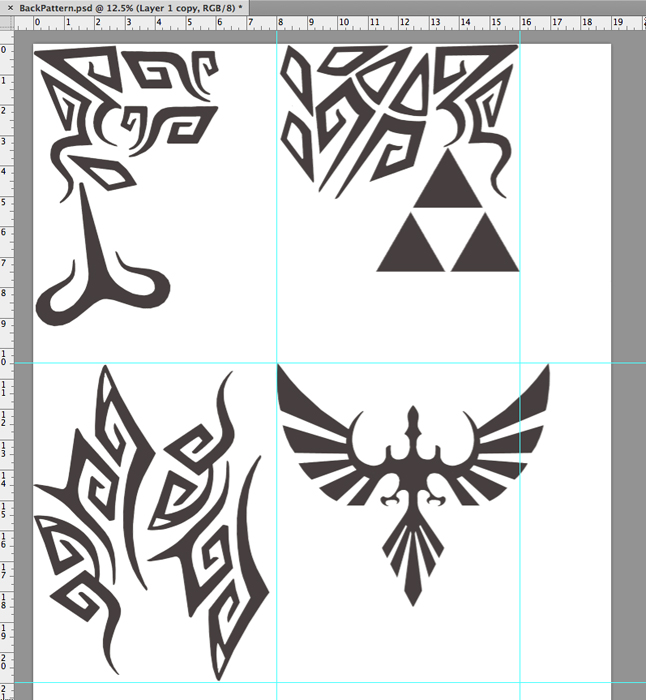 ---
Find your needed amount and iron on interfacing
Since interfacing comes in a limited width, you'll need to figure out how much space you'll need to position all of your pieces easily for cutting. This also becomes the size you'll need for your appliqué fabric. Set your chunk areas down and guesstimate a size, then cut out both. Follow the directions to fuse the interfacing to your fabric and get it nice and smooth!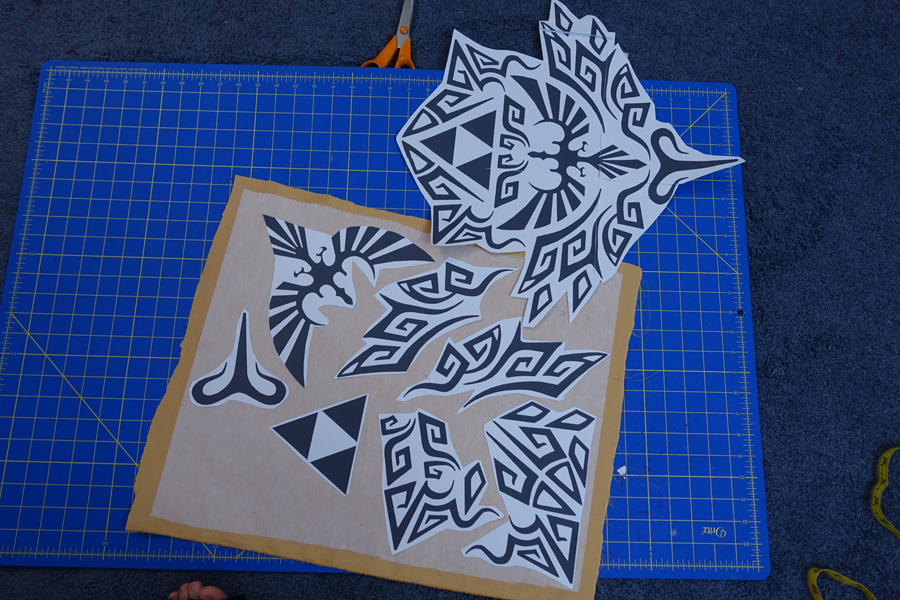 ---
Spray and glue your pattern pieces
Take your pattern pieces and set them wrong-side up on a safe area to spray, such as the inside of a cardboard box, or on expansive newspaper. If you've never worked with spray on adhesive, you must realize that it's like hairspray and it does get EVERYWHERE so make sure you have a nice and covered area to work with!
You'll only need one nice light coat of adhesive, so give each piece one swift spritz and move them up to your fabric. With the interfacing up, put the wrong-side of each piece down on the interfacing and give them a little bit of pressure to get them to adhere. It shouldn't take more than a few minutes to get them stuck enough to handle.
---
Cut out your pieces
If you have more than one pair of cutting sheers for fabric, I'd advise that you use the older set to cut out the pieces. Paper is technically bad for fabric scissors, so you'll not want to use your best to get each piece off.
Follow your pattern as a guide and cut away all the empty unneeded space. Make sure you also get inside the pattern and cut small holes/spaces as well if your pattern calls for it. The adhesive should hold the paper fine to the interfacing, so you wont have to worry about it falling apart. And if it does fall off? That's totally fine so don't panic, as long as you're getting your exact pattern out.
See how useful the second pattern printout is? It really helped me to remember what went where.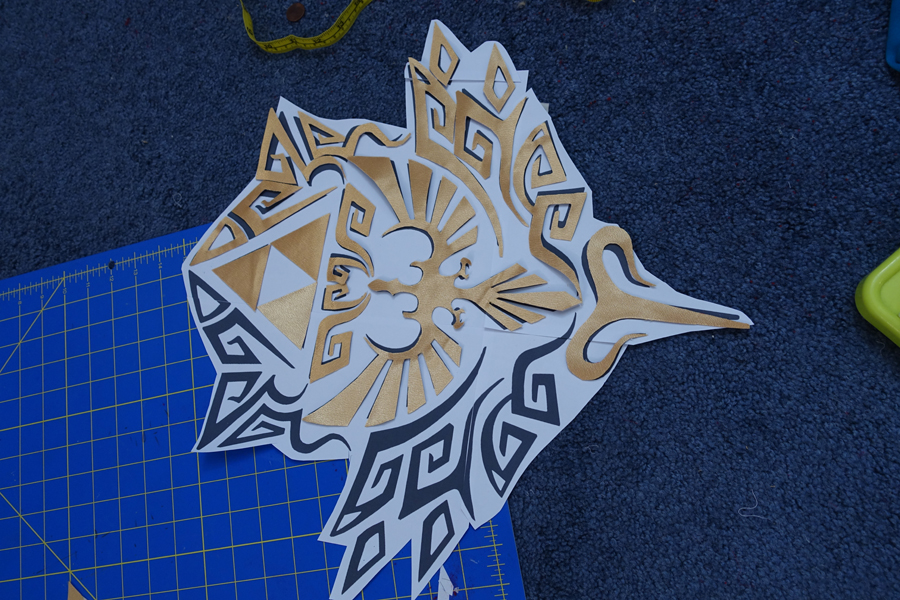 ---